Compassionate Communities
Compassionate Communities Northern Ireland is committed to changing attitudes and behaviour towards life, age, death, and loss through raising awareness and education in partnership with individuals, communities an organisations.
Our aim is to improve death experiences for everyone in Northern Ireland.
We are committed to raising people's awareness of the challenges that face people when dealing with death, dying and loss, and to promote a compassionate response that will support people on their final journey and the continued journey for those they leave behind.  These people we understand to be vulnerable and valued.
We also know that talking and planning for death and dying helps us to live better.  That is why we promote the importance of seeing end-of-life as part of life and making decisions about our own end-of-life journey.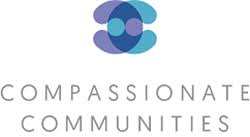 Our programs encourage conversation, facilitate compassionate support and promote practical planning for future care needs and end-of-life.
What you need to know about Palliative Care and End-of-Life Care
Well-being is important, and it's important right up to the end of our lives.
Normalising conversations about death and dying.